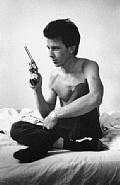 "i was born in tulsa oklahoma in 1943. when i was sixteen i started shooting amphetamine. i shot with my friends everyday for three years and then left town but i've gone back through the years. once the needle goes in it never comes out. L.C."
Questo é l'incipit del primo libro fotografico di Larry Clark:
Tulsa
, uscito nel 1971. In questi giorni alla
Maison européenne de la photographie
una mostra omonima presenta alcune di queste foto. Immagini belle, piene di grazia, ma al contempo violente e dure della periferia
profonda
di un America che all'epoca,
e ancora oggi
, veniva tenuta nascosta.. Il lato oscuro di un, a detta dello stesso Clark, presunto paese di "
Ozzie and Harriet, white picket fences, and mom and apple pie
". Questo magistrale lavoro dà vita alla straordinaria carriera di Larry Clark, ed insieme alla successiva pubblicazione,
Teenage Lust
, sono stati la principale fonte d'ispirazione
visiva
per
Drugstore Cowboy
di
Gus Van Sant
(anche
Martin Scorsese
ha trovato ispirazione nelle prime opere di L.C.).
Per altro é lo stesso
Gus Van Sant
a cercare i fondi necessari per
Kids
, il primo film di Larry Clark. Le analogie o paralleli sono più che abbondanti... Come per altro le critiche che spesso vengono rivolte a questi due
artisti
, eh sì, ho detto proprio
artisti
... perché non si tratta semplicemente di
cinema d'autore
, ma spesso e volentieri di un gesto artistico che si avvicina più alla
performance estetica
che all'aspetto romanzesco della realizzazione cinematografica.
Nell'opera d'entrambi troviamo degli
elementi comuni
: uno
spiccato senso fotografico
nella realizzazione, il fascino verso il
mondo adolescenziale
e il passaggio alla vita
adulta
(in tutti i film di L.C. e buona parte di quelli di G.V.S.), ed una
attrazione magnetica
per le
'subculture'
come il
punk
o simile, ma soprattutto lo
skateboarding
. Vedi: per L.C.
Kids
,
Ken Park
, e l'ultimo
Wassup Rockers
che riunisce entrabi (
musica
e
skate
) come soggetti principali; mentre per G.V.S. cito
volutamente
l'ultimo film (uscito ieri nelle sale francesi):
Paranoid Park
. Su cui mi soffermerò più a lungo nei prossimi giorni.