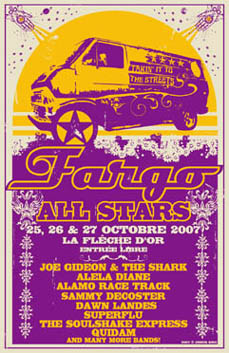 Diciamo la verità: io c'ero andato per l'ennesimo concerto dei Moriarty..
che per altro non fanno neanche parte della
scuderia
Fargo Records
. In occasione della
3 giorni
del
Fargo All Stars Festival
(musica anglofona principalmente indie rock prodotta in Francia) alla
Fleche D'Or
, non si sa come mai, erano stati invitati anche loro....
Il luogo merita la
trasferta
, ex stazione semi sotterranea (concettualmente come a Milano la Bullona -di fronte al Roïalto-, però decisamente meglio), si sviluppa sullo stesso livello, ma é un dedalo di diversi spazi:
ristorante
,
terrazza
,
bar
e
sala concerti
, tutti 'incastrati' e comunicanti...
Tre i momenti
topici
:
Il nostro arrivo
, cenavamo lì accanto, ricevo un messaggio "Guarda che é pienissimo, ho lasciato due posti a tuo nome all'entrata", ci dirigiamo verso il locale e notiamo una coda '
pas possible
' che si estende fino al semaforo... Prendo Sab per mano e con passo sostenuto passiamo accanto alla fila, arriviamo davanti all' enorme buttafuori e gli faccio: "
Emanuele per due..
" (Ho sempre sognato di farlo... :)
La cazziata alle

rasta-laziali
, durante il
mini-showcase
dei Moriarty, mi si piazzano di fianco 3 tipelle coi
dreadlocks
alquanto alticcie, ma direi pure ubriche forti... Siccome avevano un solo microfono (di solito ne hanno almeno 4) l'acoustica era pessima e persino a 10 metri dal palco si faceva fatica a sentirli... Le 3 tipe facevano allegramente salotto... sghignazzando noncuranti del fatto che
tutta
la gente intorno a loro era lì per
ascoltare
. -Ora io non sono uno di quelli che zittisce la gente ai concerti, anzi di solito é il contrario, però se il gruppo stesso ad inizio concerto chiede un po' di silenzio e se il luogo é alquanto chiassoso.. Uno lo sforzo lo fa- Per altro erano pure divertenti e relativamente simpatiche, colto un paio di commenti malevoli, mi chino verso di loro e le avverto gentilmente della probabile cazziata, chiedendo semplicemente di ridurre il tono.... Mai l'avessi fatto... L'esatto contrario.. come coi bambini... eh va be'...
La

drague

di Zimmy
, ad un certo punto vado per pisciare e chi becco sull'angolo tra i pisciatoii maschili e il corridoio dei cessi femminili?
Ovviamente
il mio amico
Stephan
,
ovviamente
in compagnia di una donnina, e manco a dirlo,
ovviamente
che stava 'tirando sù' come al solito... Che la smetta di dire che é un timido... Per altro cosa vera... Sarà che sono sempre le tipe ad avvicinarlo... Sarà che é un
musicista
... sarà il fascino orientale...
Qualcuno vuole sapere qualcosa dei concerti???
Suoni divertenti, sperimentali e non, gli unici che ho seguito/ascoltato veramente sono stati il duo:
Joe Gideon And The Sharks
.