Premessa
: prima volta in circa 2 anni che non ho male alle ginocchia durante un film al cinema... Non posso attribuire il merito al ritorno del (ex)
Material Guy
, ma piuttosto merito dell'elettrostimolazione... Iniziamo forte con la prima frase del film e gli
opening credits
, e già lì sai che il film
spaccherà la merda
(cit.).
People ask the question... what's a RocknRolla? And I tell 'em - it's not about drugs, drums, and hospital drips, oh no. There's more there than that, my friend. We all like a bit of the good life - some the money, some the drugs, other the sex game, the glamour, or the fame. But a RocknRolla, oh, he's different. Why? Because a real RocknRolla wants the fucking lot.
Rock
n
Rolla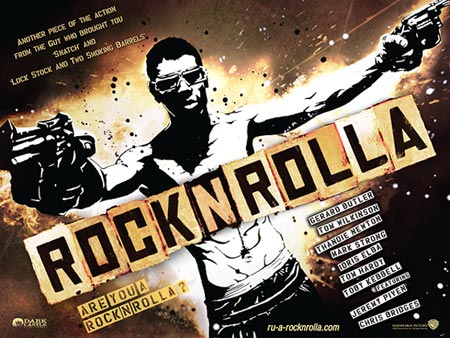 Un film di
Guy Ritchie
. Lo davano per spacciato...
si sbagliavano
... Dopo due film che facevano
parecchio cacare
, Guy Ritchie ritorna alla grande, con un
bijou
al limite della follia con tutti gli elementi tipici del suo cinema, l'unico appunto che forse si può fargli é che ovviamente la storia é più o meno la stessa di sempre... Ancora una
volta
, il pensiero va diretto a
Get Carter
(1971) e a
The Long Good Friday
(1980). Costato sotto i 20 milioni di dollari, quindi relativamente
low budget
, questo film che segna la rinascita del regista inglese, ci offre citazioni a gogo, scene divertenti e spettacolari che con molta probabilità diventeranno delle scene 'cult', ma soprattutto investe lo spettatore con humour nero e violenza a livelli stratosferici, capiamoci bene... il tutto decisamente
con stile
,
non ti mostra nulla, ma ti racconta tutto
. Per capire questa mia ultima affermazione bisogna andarlo a vedere... Il
bestiario
é decisamente vario, però Ritchie é un
furbetto
e fa in modo che 3 omini 3 escano dal lotto e diventino subito i preferiti del pubblico, o almeno per quanto mi riguarda:
Mark Strong
nel ruolo di
Archie
, lo
scozzese

spartano

Gerard Butler
nel ruolo di
One Two
, ed il
fantastico
ed
illuminato
Toby Kebbell
nel ruolo
moolto dohertiano
di
Johnny Quid
. Ovviamente da
queste parti
non troviamo necessario pronunciarsi sulla
fantasmagoricamente strafica
Thandie Newton
. A livello visivo si colloca tra il clip musicale e la graphic novel, e in aggiunta ha pure una
colonna sonora

da paura
-
Clash, War, Scientists, English Beat, Lou Reed, Wanda Jackson, War, Sonics, Hives, Blackstrobe, The Subways
-, non so più che dirvi tranne che andatelo a vedere
SUBITO
anche solo per certi momenti IMPERDIBILI: la citazione/ballo alla "
Reservoir Dogs
", l'inseguimento
a piedi
, la scena di sesso e il gig dei
The Subways
mentre
Johnny Quid
usa la sua matita
.
I wanna some mo'!!!
... e difatti il film si conclude con il seguente messaggio...
"
Archie, Johnny and The Wild Bunch will return in
The Real RocknRolla
"
e noi s'aspetta
....
In conclusione
: forse con qualche accorgimento in più o
in meno
, Ritchie avrebbe potuto superare se stesso, e forse non vediamo
ancora
la visione d'insieme, ma mi trovo assai d'accordo con Peter Travers del
Rolling Stone
quando dice che "
RocknRolla is a kickass crime drama that just doesn't know to quit while it's ahead
".
The Subways
-
Rock & Roll Queen
[mp3]
Domanda:
ma in Italia é uscito???