Mercoledì sono andato a vedere l'ultimo film di
Michael Mann
,
Public Enemies
, che non ho ancora ben capito perché in Italia uscirà solo a Dicembre... Ma va be' non sono io che faccio la programmazione... Ancora una volta è tempo di gangster, e non
l'ultimo degli stronzi
... ma
John Dillinger
, il
Robin Hood della Grande Depressione
, definito dallo stesso J. Edgar Hoover come
nemico pubblico n. 1.
Johnny Depp ci regala un gioello di recitazione, pacato e understatement rispetto al solito, alla stregua di James Cagney, Clark Gable, Marlon Brando, Robert De Niro e Al Pacino.
In realtà per come la vedo io il film è sì principalmente incentrato sul personaggio interpretato da signor Johnny
NonGuardoMaiIMieiFilm
Depp... Ma parte della narrazione regge sul dualismo con l'agente incaricato da J. Edgar
Stronzone
Hoover della sua caccia, tale Melvin
the pelvis
Purvis (che un nome più stronzo non poteva avere...), e in parte anche sulla storia d'
ammmore
con una sciaquetta mezza indiana, anch'ella con un nome finterrimo: Billie Frechette.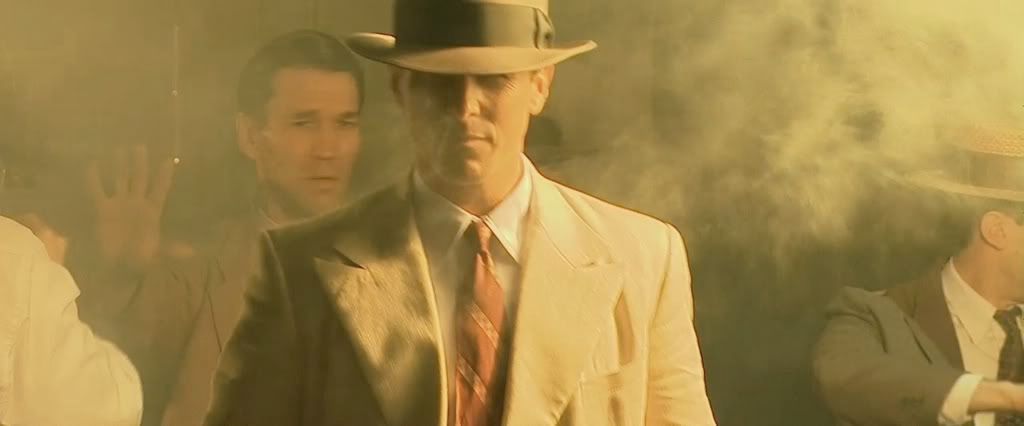 Il film pur essendo lungherrimo è molto piacevole, ben scritto e decisamente ben girato, l'inizio e la fine sono la conferma del fatto che Mann è un regista coi controcazzi... Gran lavoro di ricostruzione storica: la musica, i costumi, le auto, il decoro e la scelta degli attori sono impeccabili, soprattutto il cast mi ha decisamente sorpreso, tutti azzecatissimi e non i primi quattro stronzi capitati sotto mano...
Ok, va bene...
Christian Bale non assomiglia manco per un cazzo a Melvin Purvis, se è per questo manco
Gigione
Depp assomiglia a Dillinger, però ci sono certe espressioni facciali che sono proprio uguali (cfr. foto in calce con
questa
); a questo punto vorrei soffermarmi anche sul resto del cast, per esempio Billy Crudup ci regala un Hoover coi fiocchi, Giovanni Ribisi rende benissimo Alvin "Creepy" Karpis, Stephen "
Snatch
" Graham è un ottimo Baby Face Nelson, e via dicendo... Senza contare i ruoletti fantastici di gente che la faccia da anni '30 proprio ce l'ha, come Emilie de Ravin e Leelee Sobieski.
Mi son dimenticato qualcuno?
Sì e l'ho fatto apposta...
Non vorrei fare polemica inutilmente, ma ci sono due cose due che proprio non mi sono andate giù... Entrambe soggettive e decisamente personali, la prima e meno importante riguarda quella faccia da culo di
Marion Cotillard
. Io proprio non la sopporto, mi sta antipatica e pure parecchio, sarà pure un'attrice talentuosa e tutto quanto, si sarà pure catta un Oscar per
La Môme
(
La Vie en Rose
), ma tiene
na capa du cazz
che metà ne basta e non la posso soffrire, mi dà l'orticaria.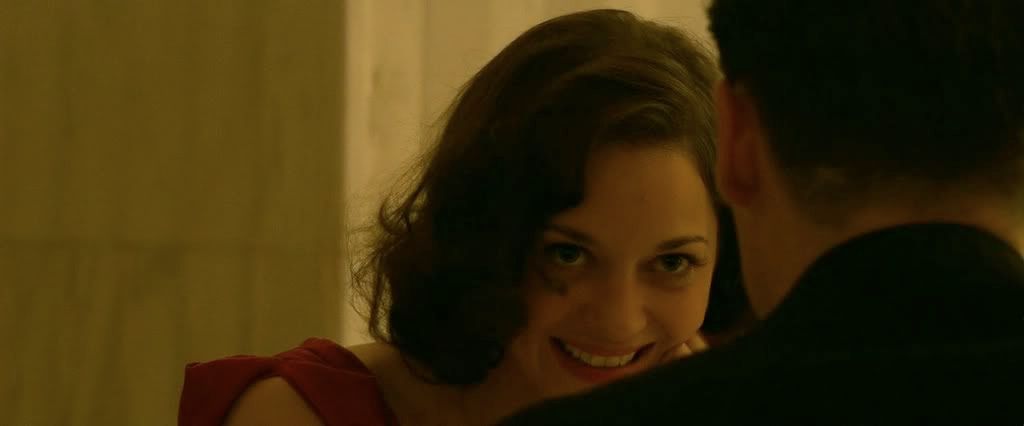 Detto questo passiamo all'altro personalissimo prurito.... I
film girati in digitale
, riversati o meno su pellicola... Sarò io che sono
old school
, sarà che ho una capacità di concentrazione comparabile a quella di un pesce rosso, ma non li reggo, ci sono momenti in cui la mia attenzione finisce dritta dritta sulle spiegazzature di un vestito, sulla barba mal rasata, sul luccichio degli oggetti metallici e
trac
mi estraneo dal film, per metà della proiezione mi sono pure chiesto se non fosse dovuto ad una scelta del direttore della fotografia... Per carità non è sempre il caso, ma sospetto che tutte le altre volte in cui non mi sono posto la questione, pur trattandosi film girato in digitale, ci fosse lo zampino di un ottimo direttore della fotografia
re del camuffaggio
. In tutta sincerità non so a che cosa sia dovuto, ma sono convinto che sia tutta colpa del fatto che sia in digitale... Mi piacerebbe vederci un po' più chiaro... E soprattutto mi piacerebbe saper che ne pensate voi...
A questo punto non ci resta che rivederci
Bonnie e Clyde
aspettando
The Untouchables: Capone Rising
di Brian De Palma.