Default damager, power to the people...
Ci fu un tempo quando da queste parti e pure a

casina vecchia

(il bloggo che ho condiviso con
Zeno
e Ste dall'autunno 2003 fino all'autunno 2007) 7 giorni non bastavano e i post giornalieri erano spesso doppi... Qualche settimana fa, mi ero ripromesso non tanto di risollevare il tenore dei contenuti, ma piuttosto di tornare al vecchio marasma di cacate che si alternano a musica, cinema e futilities varie. Ultimamente pur cazzeggiando 24/24 (infatti
meanwhile

insieme al mio nuovo

socio di monate

abbiamo messo sù
THE STUPIDEST CONTEST EVER.
EVERY WEEK
.
)
, non ho ho abbastanza tempo per leggere tutto il mio blogroll, non riesco a stare dietro nemmeno alle

twittate

varie e men che meno ad aggiornare

el meu tumblr

. E

orrore degli orrori

:
credo che il 2009 passerà agli annali come

l'anno in cui ho comprato meno dischi

,

scaricato

(:S)

pressoché nulla

e

ascoltato in loop ogni sera un disco preso a caso dallo scafale

.
E a quanto pare non sono l'unico... Però questa settimana sembrebbe quella giusta per

riprendere gli affari

, ne sono ottimo esempio il gradito ritorno di Paolo, il risveglio di Dietnam, il nuovo blog di Mist e le avventure del
BollA
.
Dopo questo lungo e

volendo ben vedere

inutile preambolo, passiamo alle

coscie

serie, ovvero il soggetto più trattato da queste parti...

MUSICA MAESTRO!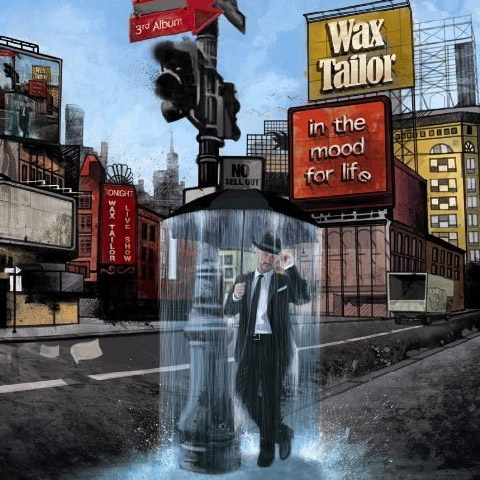 In the Mood for Life
è il terzo album di
Wax Tailor
(
il sito
rifatto a nuovo
merita un giro, anche solo per tutti i fantastici video fatti da

Tenas

cfr.
), l'amichetto francese fa della musica che potremmo principalemente definire come del
trip
-
hip
-
hop
, con grosse influenze jazz, soul e funk, passando attraverso
nuances
pop, e ancora una volta non delude e ci regala 14 traccie più una manciata di
skit
, registrate tra New York e Parigi, piene di
groove
, accompagnato dalla solita carovana di amici e collaboratori, una tra tutte: la spendida
Charlotte Savary
. E per i più fortunati una doppia edizione speciale con
bonus cd
strumentale
. Per semplificare le cose si potrebbe dire che
non è esattamente uguale ai due precedenti, ma non è veramente differente
. In sostanza è la perfetta sintesi tra i due.
Di culo
ho trovato il
trailer sonoro
di tutto l'album. (
enjoy it bitches
)
Mi sento di dire che si tratta di un valore sicuro, un viaggio sonoro tra la cultura musicale e cinematografica di questo diavoletto calvo, forse non è ancora
l'opera della maturità
,
del cambiamento
, ma di sicuro si allinea con i due precedenti album e non delude, anzi...
La mia preferita...
non ve la dico
, la tengo in serbo per momenti più cupi. Ma vi lascio comunque con qualche chicchella:
Wax Tailor

– "

B-Boy On Wax

" (feat. Speech Defect)
(
via
)
Wax Tailor

- "

Say Yes

"(feat. ASM)
(
via
)
Questo è il Making of di In the Mood for Life.


Revolution presents
The Revolution
è un progetto decisamente interessante, in un certo senso si potrebbe accordare molto bene con l'album di cui sopra, ma vediamo un po' di che si tratta... In occasione dei 50 anni della Rivoluzione a Cuba
Zack Winfield
e
Ado Yoshizaki
hanno deciso di affiancare ad un gruppo di giovani promettenti musicisti cubani semi-sconosciuti dei mostri sacri della produzione electro-pop anglosassone, giusto per fare un po' di
name-dropping
:
Norman Cook
a.k.a.
Fatboy Slim
,
Rich File
(
UNKLE
),
Poet Name Life
(
Black Eyed Peas
),
Guy Sigsworth
(
Bjork
),
Marius De Vries
(
Sugarcubes
), e
Cameron McVey & Jan Kybert
(
Massive Attack
). Due traccie a coccia. Si balla al suono delle percussioni accompagnati dal canto bilingue, inglese e spagnolo, di altri prestigiosi ospiti come per esempio
Róisín Murphy
,
Orishas
,
Lateef Truthspeaker
e altri.
The Revolution & Norman Cook

-

Siente Mi Ritmo
E per finire un breve documentario che presenta il progetto.